Since on the poll on my previous post people have expressed interest for '80s idols, I thought I'd start by my favourite:
Koizumi Kyoko
, aka
Kyon Kyon
!
She debuted in 1982 and she's one of my favourites in the Eighties idol scene because although she isn't the most gifted vocalist ever, she clearly enjoys every second she's holding the mic. She's very pretty and always smiling cheerfully, looking like she's genuinely having fun, and that's why I really like her ♥
Generally I don't particularly like the sound of 80s idol pop, but her songs are very enjoyable.
One last gossip: the ones of you who are familiar with Johnny's might remember her as the rumoured older lover of Kamenashi Kazuya. ^^;;
Koizumi Kyoko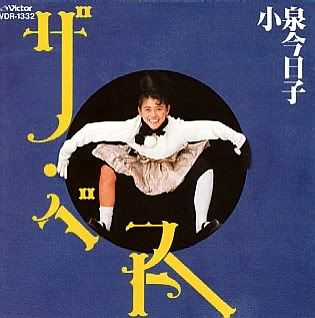 Released on 16 December 1986
.mp3, 320kbit
Filenames and tags in Japanese
[
download
]
01. Watashi no 16sai
02. Suteki na lovely boy
03. Hitori machikado
04. Shunpuu no yuuwaku
05. Makka na onna no ko
06. Hanbun shoujo
07. Atesugata namida musume
08. Nagisa no haikara ningyo
09. Meikyuu no andoroora
10. Yamato nadeshiko shichihenge
11. The Stardust Memory
12. Tokonatsu musume
13. Majo
14. Nantettatte idol
15. 100% danjo kousai
16. Yoake no MEW
Enjoy and comment if you take it / like it ♥