Sorry for spamming more Sawada Kenji goodness to you before the other promised stuff, but I've just received this (+ another Julie album) and it's too good not to share it! :D
This is one of Sawada's three albums (released in 1977-78) that were completely composed by Ono Katsuo and written by Aku Yu. I have listened to it three times so far and I LOVE IT. It's wild but very classy at the same time, just like Julie is ♥. The lyrics and melodies suit him and his singing style perfectly. Moreover it's a very varied album in terms of song styles, but very consistent from beginning to end.
The songs arrangements are brilliant, too, and I especially adore the bass work in this album *_*
My rip, in all its remastered stereo 320KbS glory. Scans will come when I find the scanner drivers cd XD, and the other Julie album I bought ("LOVE ~ai to wa fukou wo osorenai koto~") is coming very soon~
Sawada Kenji "Kondo wa, karei na utage ni douzo."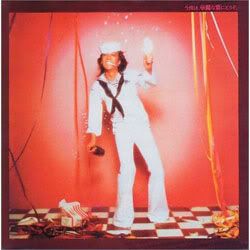 320KbS - tags & filenames in Japanese
[
download
]
1. Darling
2. Yoidore kankei
3. Happy lady
4. Onna wa waru da
5. Tantei (kanashiki chaser)
6. Yamato yori ai wo komete
7. Ojousan oteage da
8. Goodbye Maria
9. Spirit
NB: Since I'm lame / I was too excited / I'm stupid (you decide), the album title in the tags is wrong - I wrote "Kondo, karei~" instead of "Kondo wa, karei~" -_- sorry for the inconvenience!