I uploaded it for a friend so since it took ages I figured it wouldn't hurt to share ♥.
Yamaguchi Momoe's farewell concert in Butoukan, 5 October 1980. It's one of my favourite concerts of all times and I can't help crying a little whenever I watch it. Momoe delivers an impressive, emotional performance in this show, divided in four parts, each using a different colour as its concept (gold, red, blue and white).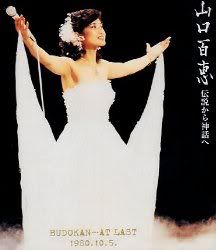 Setlist:
01. This is my trial
02. Yokosuka sunset sunrise
03. I came from Yokosuka
04. Playback Part I
05. Playback Part II
06. Zettai zetsumei
07. Imitation gold
08. Ai no arashi
09. Yume saki annainin
10. Yokosuka story
11. Star tanjou AGAIN
12. Medley (Hitonatsu no keiken, Kinjirareta asobi, Fuyu no iro, Mizuumi no kesshin, Harukaze no itazura, Aoi kajitsu, Toshigoro)
13. Rock'n'roll widow
14. Ii hi tabidachi
15. Ichie
16. Manjushaka
17. Cosmos
18. Introduction - haru
19. Fushichou densetsu
20. Utaitsugarete yuku uta no you ni
21. Sayounara no mukougawa
22. This is my trial (instrumental)
DVD ISO, 4,7 GB. (Don't expect HQ/HD though - it was recorded in 1980! But quality is good enough)
001:
http://www.megaupload.com/?d=JPX2WOSY
002:
http://www.megaupload.com/?d=E8PTP50Q
003:
http://www.megaupload.com/?d=6XO717XW
004:
http://www.megaupload.com/?d=JNN4BD94
005:
http://www.megaupload.com/?d=6UQ3NCBK
006:
http://www.megaupload.com/?d=XU3TI0BW
Join with HJSplit.
If you want to repost the links it would be nice but not mandatory to credit.
I'd be also really happy if you commented if you took it, because I kind of feel I am the sole Momoe fan in the whole Western world and I'd be happy to be proven otherwise XD.